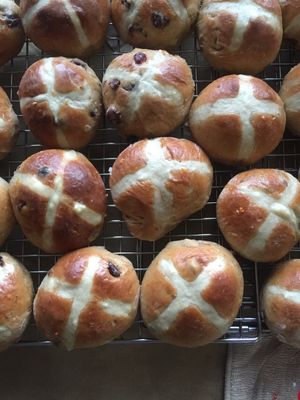 These unusual times have focused attention on the things that are truly important.  Health, community safety, care and compassion for our neighbours and of course, food. Food has always been central to our existence from back when we would gather around a fire waiting for our share of the spoils of the hunt. Recent forays to the supermarket have in a strange way restored the challenge and danger of the hunt our ancestors experienced. We are so fortunate to have a reliable food system and I am so grateful for the efforts of farmers, processors, distributors and grocery store staff for getting food to us in these challenging time.
It is a good time to seek comfort in food traditions. Yesterday I baked a big batch of my mom's hot cross buns using raisins and dried cranberries. Deviating from the tradition of snipping a cross in the buns with scissors, I piped a stiff paste of flour and water on the risen buns to make the cross. To kick them up yet another notch, out of the oven I brushed them with a glaze made with icing sugar, fresh squeezed orange juice and orange zest. As you can see from the picture above, they turned out beautifully and taste even better than they look - I wish I could share one with you over a cup of coffee.
Whether you celebrate Easter or not, this is a good time to pause and reflect on the gifts we have to get us through difficult times. A prosperous society that has the wealth and resources to share with those who have less. Health care workers, first responders, political and community leaders, supply chain workers, grocery store cashiers, social isolationists... everyone contributing to the collective effort to deal with this pandemic.
There is much to be thankful for.