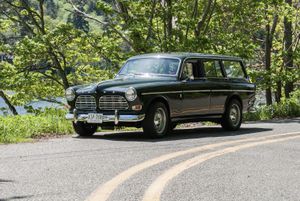 I am grateful for a Volvo 122s wagon.
A 1967, dark green Volvo 122s station wagon that my Dad bought new. Seat belts were an option that he wisely chose. It hauled our family and tent trailer on epic family road trips to PEI and Vancouver Island. We had the car for almost forty years and drove it over 500,000 miles - that's over 800,000 kilometers - the distance to the moon and back.
Dad loved driving stick and the Volvo had a classic one - a long four speed shifter on the floor that would oscillate at highway speed. It was the first car I ever drove and the inspiration for the lyric in my song Minivan Man:
When I was young I had a cool car
Sixty-seven Volvo with four on the floor
It wasn't real fast but it sure sounded good
That little four cylinder under the hood
I haven't driven a Volvo since we sold that old Volvo that served us so well. I don't think I'll have a car like that again.
Have you had a memorable vehicle?
Image Source: https://www.hagerty.com/articles-videos/articles/2019/11/27/1963-1969-volvo-122-amazon-wagon-remains-solid-dependable-buy